Scholars of New Religious Movements who like to combine academic presentations with fieldwork might profitably consider attending CESNUR events. This year's annual conference was held in Taiwan, and was timed to coincide with the unveiling of the world's largest statue of Guiguzi, and which was attended by 5,000 people, and to which conference attendees were invited.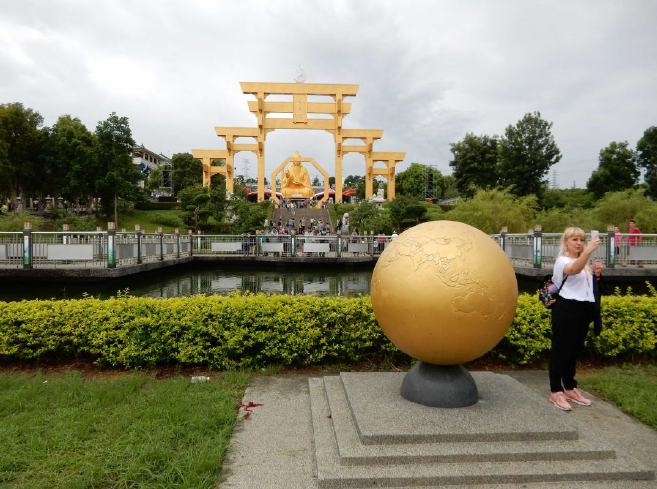 Guiguzi, whose name means "the sage of ghost valley", was a somewhat enigmatic figure – or maybe a composite character – who authored the fifth/sixth century book that bears his name. He is believed to have become an immortal, and is frequently identified with the bodhisattva Wang Chan Lao Zu. The Grand Master Hun Yuan is the founder-leader of Weixin Shengjiao – a sizeable Taiwanese religious movement founded in 1984 – and the Dean of Weixin College, where the conference was held. After suffering a serious illness in 1982, Hun Yuan attributed his recovery to supernatural powers, and subsequently devoted his life to spiritual affairs, claiming a mystical oneness with Guiguzi. Hun Yuan proved to be a jovial and extremely hospitable host throughout the conference and on the subsequent three-day field visits.
Most CESNUR conference themes are broad, since the organisers do not wish to exclude interesting innovative research. However, the Far-Eastern venue attracted scholars from Korea and Vietnam, as well as Taiwan, which serve to put new religions from these countries on the map, in line with the theme.
One panel was devoted to the Vietnamese Cao Dai movement, founded in 1924, and two panels addressed the theme of Feng Shui. Inevitably Sun Myung Moon's Unification Movement received coverage, although a growing interest is now emerging on Daesoon Jinrihoe, which is Korea's largest, but less well-known, new religion, and which provided the subject matter for one dedicated panel as well as a number of other presentations. Western NRMs found a niche two, and included one panel on Scientology.
The conference ended with a roundtable on the theme of charisma, in honour of Eileen Barker's eightieth birthday, and chaired by J. Gordon Melton. A forthcoming edition of Nova Religio is planned to develop the theme, which arguably has relied on undue deference to MaxWeber until now.
The 2019 conference is already publicised on the CESNUR home page. The topic will be: Re-Enchanting The World: Spiritualities And Religions Of The Third Millennium. It will be held in Torino (6-7 September 2019).
George Chryssides
---
A previous version of this report was published in the November 2018 issue of the Bulletin of the British Association for the Study of Religions (BASR), https://basr.ac.uk.